Y'know what I realized? I probably oughta have a character post before I go around slapping art of random people into your face. (But expect a bit of face slapping anyways. With art!)
Eliana Oleastro
Age: 30
Ornithologist
Ornithologist by trade and explorer by nature, Eliana's boundless passion is focused onto her work with birds. She is enamored by the mystery of flight, and hopes to someday soar the skies on wings of her own.
Eliana's work involves plenty of travel and spades of adventure - she's been everywhere from the fields of Somnia to the mountains of Vesperes. Knowing self-defense is a must, and her weapon of choice is the crossbow, powerful to use and with a variety of bolt types she can use for research as well as battle.
I've already got a design going for me!




Knowing me, I'll rewrite the character information at least three times before I end up with one I'm really satisfied with. ...Same for the designs, too. The important things to know about Eliana is that she's a bundle of energy and fights with a crossbow, though she's not very violent. Her crossbow gets more usage as a means of subduing rather than actively harming things - this is reflected in her skills, which have a focus on inflicting status effects. (Which
is
going to be useful. I'm determined to make this useful, dagnabit!) ...And despite this, she's one of the stronger characters, as far as the attack stat is concerned.
Narcisco Galowen
Age: 29
Mercenary
The sole member of the Merryweather Mercenaries, Narcisco wanders the land with a sullen expression and a heavy heart. He is driven by an obsession with the Marzanna, seeking them out every chance he gets - some believe he has a death wish.
Narcisco's years spent fighting for hire have honed his skills for survival. He fights with polearms, utilizing everything from javelins to halberds to spears so long as it has decent range and the ability to skewer his foes. His skills focus on piercing through barriers and enemy defenses, and his high physical strength makes him a force to be reckoned with.
Just look at those long, flowing, bishounen locks. ...What?
Narcisco isn't always a pile of angst, I promise. Nor is he any sort of love interest, for the record. He's a heavy hitter in battle, but also fairly slow. His skills aren't as well planned as Eliana's at the moment, but for the most part they'll be physical attack oriented. Narc also has barrier breaking skills that can shatter enemy defenses, as well as buff-like abilities for himself. One thing to note is that many skills will actually come from equipment; an example is the Survival Kit, which grants a few basic healing skills such as "bandage". So even if an actor might not have a very robust skill set on their own, equipment can be a way to change their role in battle.
Tancredi
Age: 27
Scholar
A cheerful scholar dedicated to studying the world around him, Tancredi is a fountain of knowledge and joy. He spends his time researching the taint, hoping to one day find a way to cure it and bring an end to the suffering caused by the Marzanna.
Being a Mentiri allows Tancredi to tap into magic; lacking in physical ability, using magic becomes his strength. Although he uses staves as a weapon, Tancredi has always been in favor of helping rather than hurting. Within the categories of magic, healing is the most well-suited for him.
Yes, that hair is natural. And ridiculous.






"What in the world is a Mentiri?!" you might be wondering. (Or not.) I'll save them for another post, as you can see they definitely aren't like your average human. Tancredi's the most effective with his magic, but surprise surprise, he's a bit of a squishy mage. ¯\(°_o)/¯ He also starts out as the healer of the group, but you don't have to set his skills this way; 1kDreams uses a skill grid (Or tree. Or sphere. Or hieroglyph. ...Look I'm still trying to figure out what to call it.) for Mentiri to learn magic from, so you can have him learn whatever you want.
Mattea
Age: 35
Alchemist
An alchemist working to earn recognition in her field, Mattea's overwhelming presence extends into more than just her academic work - she is also skilled with magic and practices self-defense. Although she is kind at heart, her volatile attitude and coldly logical outlook can make her hard to get along with.
Mattea's skill in battle covers many disciplines - she is a competent fighter, can use magic, uses items to their full effects, and can mix compounds to create new ones as well. She also provides injections to her comrades outside of battle and herself in battle, granting temporary strength as well as various immunities.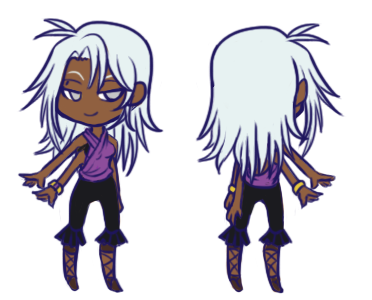 Four arms are a +4 in Awesome.
Like Tancredi, Mattea is a Mentiri. And also like Tancredi, she lacks a last name. OTL I'll find ones eventually! Not that last names really come up, except for a few specific characters. Mattea is the character I really have to watch so that she doesn't end up overpowered. Stat-wise she's pretty well balanced, and isn't the best or worst in any category. She has quite a few skills at her disposal, though I might end up getting rid of the item combining idea. Sounds like a pain in the ass to figure out, and I've never been a fan of mixing systems. We'll see, I suppose.
And from the Dept. of Personal Matters, NaNoWriMo is eating my soul! But in a good way. It's why things like appearing in places I should be appearing and thinking about blog posts have been delayed. Also why I haven't got much work done on any projects of mine. However, I R SRS WRITER. I'm actually on track with my word count and everything! Whoooo~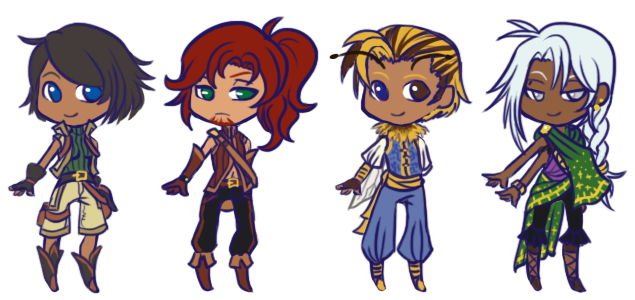 Here, have a group shot before you go.