Because I'm working and dislike needlessly generating hype, that's why! I might not be shouting it to the world, but I've been getting a lot done. Project recap, for anyone interested…
ALICE: Not working on! I don't want to kick this project to the curb completely, but it needs some major overhauls. I also don't want to spend my entire life remaking the same project over and over, so for now it's sitting on the backburner. I really like a lot of the ideas I had for ALICE, as well as the battle system, so… Don't think I'm through with the project yet! Even if it shows up under a different name, it'll still have the same… hrmmm, it's hard to find a word for it! It might end up with a
spiritual successor
.
Legend of Masada: Also not working on! However, this is because my partner in crime,
Jalen
, has been swamped with school/work and I've been having scripting difficulties. As this is a little side-project for fun, I won't be losing any sleep over the lack of progress! We've still done quite a lot for the first level, though, and are contemplating a battle system switch since I keep failing at the one we've been using. OTL Who knows? There are a lot of kinks we need to iron out before we go and make the rest of the game!
Now I can spend the rest of this post talking about what I
have
been doing for One Thousand Years of Dreams.
NUMBERS EVERYWHERE OH MY GOODNESS.
I've sunk my teeth into the battle system. Making skills, items, stats, etc., etc. Things like that! I can't do graphical work at the moment, seeing as how I can't use my tablet, so I'll be focusing on the mechanical side of things. Well, and spriting.
1kDreams uses Battle Engine Melody, which is really one of my favorite systems. The view type is emptyview and the battle type turn-based so… it's the default battle system with all kinds of EXTRA SUPER COOL AWESOME FEATURES! (Fancy costs for skills, and AI and rage all over the battle oh my!) I actually tried out the CTB for a while, but y'know what? I couldn't predict turns, I didn't really get how it worked, it was more hassle trying to be different than just sticking with what I knew… I'd rather have a game made by someone who understands the default battle system than a game made by someone who was fiddling around with something they only kinda-sorta understood. It's just cleaner this way!
When I have everything polished and not in messy tables and descriptions, I'll post up blurbs about each party member's fighting style. Everyone has their own pool of skills, each suited to a particular role in battle, though there are exceptions to this. Especially for the magic users, as any magic user can learn any kind of magic through the generically named skill grid. I haven't come up with any kind of fancy name for it yet. IT IS A SKILL GRID, SO FOR NOW I AM CALLING IT A SKILL GRID.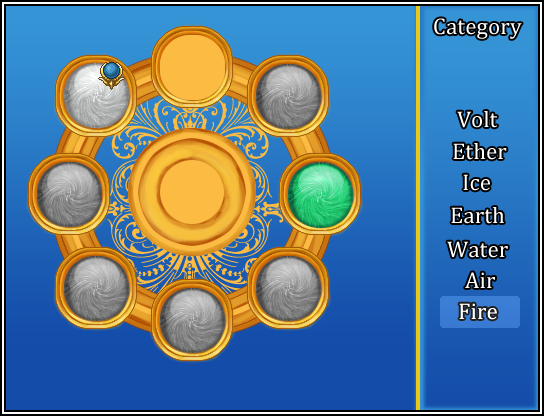 A screenshot of the main interface~! The background graphics aren't finished, but making it pretty can wait. When you first enter the skill grid, you choose whose progress you'd like to see. Then you can wander around the category menu, which will have different sections highlighted depending on who is selected and what skills they've learned. Once you select a category, you're taken to a different menu where you can spend Skill Points (that's also a generic name for now! It might stay that way) to learn new sections of the selected category.
It's actually really simple, but I feel like this explanation is making it sound complicated, ah-hahahaha. IT IS A SKILL GRID. MAGIC USERS LEARN MAGICAL SKILLS FROM IT.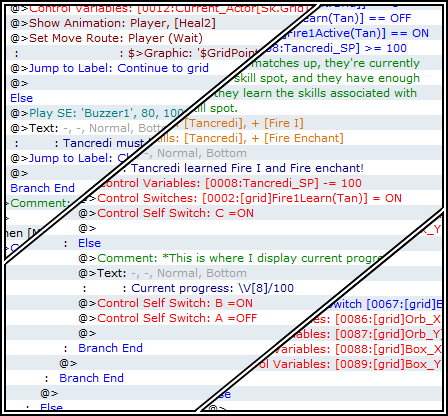 There's some of the coding for it, too~! And… generic skill names until I think of something less generic than FIRE I and FIRE ENCHANT.
In case you can't tell, right now I'm worrying more about how things work rather than how they look. I can always pretty things up later! That being said…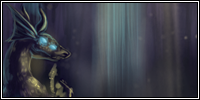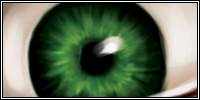 I leave you with some pictures to ogle! One of a location you visit, one of a cutscene picture, and one of a battler.
The face style has also been bumped up from cel-shaded to the more painterly style I'm used to. It's a small change, but so far I feel like it looks much better.
Ciao~!